It's been wonderful, but our time in the States is coming to a close.
Packing. I think it's our job. (Is that what we do?) Regardless, Katie's amazing at it. She is the ultimate family showrunner. She's been visualizing it all for months while writing the script in her head. This week, we are in dress rehearsals and—let me tell you—this summer's packing performance is going to be quite the show.
Teaching and Preaching
After returning from the west coast at the end of April, I was finally able to set aside uninterrupted study time for the first course I'll be teaching this August. I headed out three days a week to an office or local library and spent 6–8 hours at a time drowning in Philippians and Thessalonians. It was a wonderful time of intense study. My brain was so tired by the end of each day, but it was a good tired.
For the last several weeks, I've also been spending time preparing for a few sermons here at the Broken Arrow church. I preached three times over the last two weeks. One of those lessons, Idle Idol Worship, is one that has been brewing for a long time. It's about how the unintentional worship of our phones is having a negative effect on our ability to worship God. If you'd like to hear it, you can listen to or download a copy of it here.
Summer Fun
Justus has become a big library fan. We usually have thirty or forty books checked out at a time. Mostly he enjoys books about construction, as well as construction, and sometimes he'll even peruse the construction genre. He loves to read and will now even spend long periods of time looking at the books all by himself.
It's also been hot lately, and so trips to the splash pad have become a regular activity for us. Justus absolutely loves the water.
Last week we took a trip out to Broken Arrow's church camp because Katie had been invited to speak to the high school girls. She did amazing (obviously), and we all enjoyed a nice afternoon exploring camp, cabins, and hammocks. The rain storm did interfere with Justus' plans to get in on boys' swim, but he still had a good day.
Leaving Soon
We leave Broken Arrow in a week. It's been a real blessing to be here for an extended stay, but these four months have felt like four weeks. There was so much more we wanted to do, and so many more people we wanted to spend time with. Justus feels at home here, and so do we. We're feeling pretty down about having to say goodbye yet again.
Last Sunday, the church arranged a going-away celebration for us. The room was decorated with maps and globes and pictures from our eight years in Kharkov. The church honored us with their presence, with their attention, and with their words of affirmation. We are so blessed by all the supporters we have.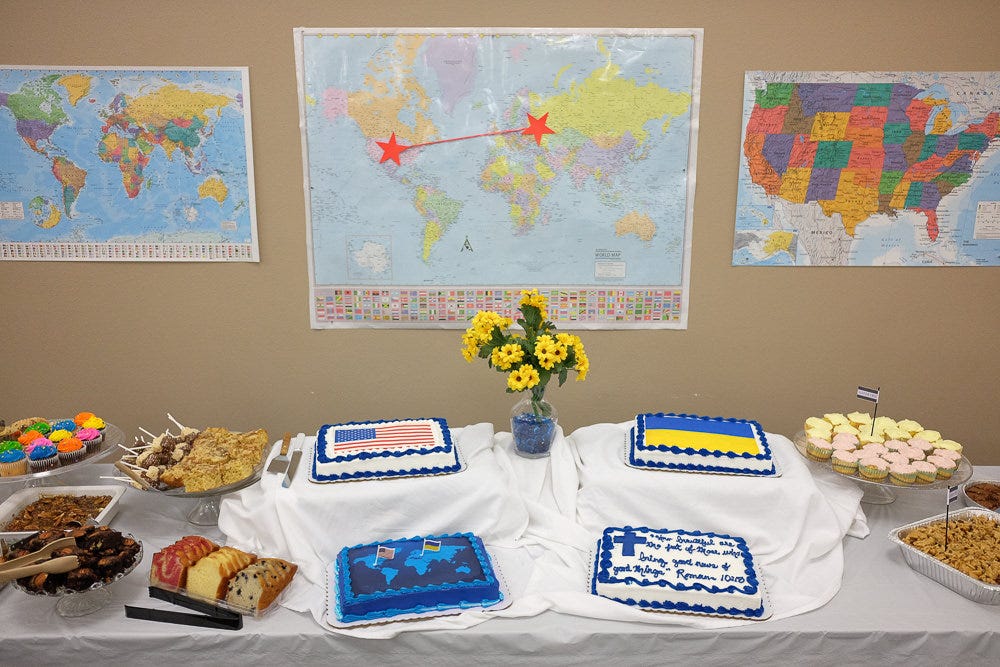 We go from here to North Carolina to spend a couple weeks with Katie's mom. Then, Lord willing, we fly to Ukraine July 3rd. (We'll check in with you all one more time before then.)
Thank you so much for your continued love and support. We couldn't do this without you. And honestly, we wouldn't want to.
—Brandon and Katie
---
The picture above is from our dinner out to P.F. Chang's to celebrate our fourteenth wedding anniversary. We tried explaining to Justus what was special about the day, and then we showed him some of our wedding photos before bed. Then, during his bedtime prayer—totally unprompted—he prayed this:
Dear God, so much…good day. Thank you beautiful sunset. Thank you beautiful…beautiful afternoon. Thank you mommy and daddy married. Thank you…in Jesus, amen.
It was precious. And if you want, you can listen to it right here.